Social media is no longer just social.
Facebook, Twitter, LinkedIn and other emerging platforms are being used by job seekers to network and plan their next career move. With the transparency inherent in social media, employers can learn about candidates like never before. Unlike a resume, social platforms can give you a comprehensive picture of whom you're hiring.
But this is only helpful if you have a solid strategy to execute on. This involves building your team, creating content, deciding what platform to use, targeting your audience, and proving your ROI. Below, we'll explore these 5 steps so that your social media recruitment efforts result in more qualified applicants applying.
Step 1: Building Your Team
Before you can post anything, you need to determine your strategy. This strategy involves several aspects, including what you will post and who you will target, which we will discuss later in the post. But for right now, we will discuss the very first step to take in your social media recruitment strategy: Building your team.
Determining a set team, and assigning clear roles and protocol from the beginning, will help the process run smoothly. Social media moves fast, and without an established response protocol, small fires can quickly turn into emergencies.
Your team will vary depending on how your company is structured and the resources you have to work with. If you're able to work with multiple staff members, it is recommended to have both HR and Marketing departments on the team for the following reasons:
1. Upholding Brand Guidelines
"Let's face it," says Baron, "depending on the company, each department often works in a silo – one where HR doesn't know what Marketing is doing, and vice versa. By working with both HR and Marketing, we're able to develop cross-departmental communication and receive brand updates in real-time."
2. Content Comes From Multiple Sources
"Depending on the agreed upon content buckets, posted content can span across subject matters that are recruitment-specific in nature (e.g. an open position) vs. marketing-related (e.g. a new product launch that leverages new technology and can become a selling point for working at the company). Because this overlap exists, we can gain content inspiration or new information from both HR and Marketing."
3. Integration Creates Advocates
"By partnering with both HR and Marketing, the Agency can better ensure social advocates on the Client side who will champion the work. Client advocates = happy Clients = strong Client/Agency relationship."
If you do not have the resources and are relying on a single team member, be it a recruiter, marketer or HR person, it is still imperative that they have a game plan in place. Will they be using company social media handles or will they be posting and recruiting through their personal account? What types of language will they be using? Answering these questions ahead of time will save you a load of stress down the road.
Step 2: Building Your Content
Content that works for a consumer-facing brand won't necessarily work for recruitment. Your content needs to sell jobs, not a product. So what types of content can you post to attract potential candidates?
Employee testimonials – Interview your employees and let them speak honestly about their experiences working at your company. The more you can showcase real stories from real employees, the more transparency you can build with potential candidates.
Company "wow" factor – Do talk about why your company is awesome, but don't over do it. You might talk about how you've been listed as a best place to work for 5 years in a row. Just remember to promote a mix of awards and accomplishments, with employee stories.
Values showcase – Candidates want to know what your company stands for. They want to see that you have a clear vision and more importantly, they want to see how it's carried out day-to-day. If your mission statement promotes service to others, make sure your content highlights the charity work you are a part of.
If you have a budget to work within, consider what posts you want to dedicate your spending to.
If you have anyone on staff who's good with photo editing – enhancing a photo with text or branded image takes very little time, and results in a more engaging piece of content.
"Anything that makes the post more fun and 'worthy of engagement' is always a good idea, especially if you're using budget on it," says Hennessy.
Step 3: Finding Your Audience (Or how to decide what platform to be on)
Every social media platform has its own prevailing demographic. This infographic, from WendyMcClellan.com, touches on a few key demographic stats, like gender, occupation and age.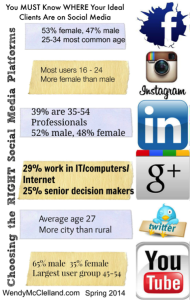 Why is this information important? Because knowing what platform your audience is on allows your posts to be seen by the most relevant section of the population.
It's tempting to jump on the bandwagon and join the latest and hippest platform, but first, you need to ask yourself: Is this where my candidates are?
If you're just starting out, a solid strategy would be to get on The Big 3, Facebook, Twitter, and LinkedIn. These platforms are the most widely used platforms, with Facebook topping the list with an estimated 900,000,000 unique monthly visitors. Once your talent acquisition presence is flourishing, metrics are solid, and job candidates have been vetted through them, then you can start to think about and create a strategy for other platforms.
In addition to choosing a platform by demographic, it's important to consider the type of content you'll be posting. If you'll be primarily posting long-form, text-based content like White Papers, LinkedIn is best. Remember that Instagram is solely image-based, while Facebook combines text, images, and videos. Here are some questions to consider before joining a social platform:
If you're using a platform with a younger audience like SnapChat and Instagram, how can your brand come across as young and hip, but still display and communicate the proper branding?
Will your messaging resonate with followers?
If you're on several platforms, are you educating your follower bases in slightly different ways? (changing the copy from site to site is recommended since the community on one site can be dramatically different from another site)
Establishing a presence on relevant platforms, based on your demographic and content, is the next step to creating a successful social recruitment strategy. Next, we will discuss how you can use targeting to drill down further to reach your audience.
Step 4: Targeting Your Audience
Now that you know whom to target, you need to find those candidates. Search Engine Marketing (SEM) is a form of internet marketing that can help you target specific users through optimization and advertising. Facebook, Twitter, and LinkedIn all provide opportunities for paid promotion and targeting. Deciding how to target your social posts is based on a variety of factors, including:
Goal of each post
Example post goals: To get more clicks to your job listing
Demographics in relation to goal
Example demographics: 25-30, Latino men, living in Miami
Psychographics in relation to goal
Example psychographics: Those interested in technology, enjoy nightlife
Behaviors in relation to goal
Example behaviors: Use mobile devices, give to charity
In addition to your target labels, you can't underestimate the power of your post copy.
It's important to remember that SEM is much like any other advertising and marketing flashpoints you'd see online; it only works if the message displayed is effectively communicated and tailored to the audience.
Step 5: Proving Your ROI
Shares, 'Likes' and retweets are great for engagement, but do they actually lead to clicks, applications and hires? Proving the ROI of social media is difficult, but it's not impossible.
A better way to think about the success of your social media efforts, is to see how well it is driving people one step closer to conversion. While the ultimate goal is to get an application, "micro-conversions" create awareness of your company. Before you can get an application, a user needs to be familiar with who you are. This is why micro-conversions, such as getting a user to subscribe to your newsletter, or having them visit your career site, content pages and job descriptions, are incredibly valuable.
The relationship between social media and talent acquisition can be a lot more harmonious by following a few crucial steps. You can ignore social media, but it's not going anywhere, in fact it's growing. Simply having a social account is not enough. If you're going to use social media as a talent acquisition tool, the effort and strategy you put in will ultimately determine how successful you are in reaching hopeful candidates.